Many of us at GoBeyond are parents too. My wife Jo and I learned first hand what it actually feels like to send a child to a faraway place when our son, Joshua, boarded a plane to the British Virgin Islands. Like you, we had high expectations, lofty goals and some valid concerns.
Joshua had been to the BVI for a portion of every summer since he was born; yet always with "mom and dad".  Now he was out on his own, facing the social and emotional challenges that our Journeys are designed to create. Turns out he had a great time and we believe he grew greatly from his experience.  He came home with lots of great stories about his Journey and his new friends from all over the world but more important was his obvious sense of accomplishment. He was proud of what he and his team had achieved and was more confident in his own abilities.
On the flip side, Jo and I gained a greater appreciation for the journey that you, as parents and guardians, also embark upon from that moment you take the plunge to enroll your child to the moment you welcome them home. We can't do this without the trust and belief that parents put in us, yet we understand that this trust can only be earned over time. We hope that this section will start to answer some of those important questions we know that most parents will have as they explore whether this experience is right for their family.
– Mike Meighan, Director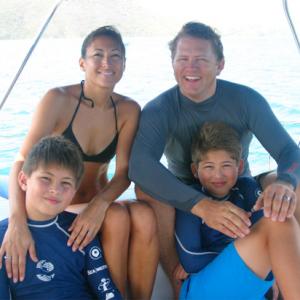 Some of our team and their families
The vision and mission of a GoBeyond journey is to help transform communities, environments, and students' lives through meaningful cross-cultural service adventures.
We believe in each individual's unique potential to affect positive change, so in bringing together teams of talented and driven young adults on student trips abroad, we amplify our ability to create a positive ripple effect that we hope will continue long after our journey concludes.
While there are many reasons we feel our Journeys offer huge opportunity for high school students, here's our top five reasons you should GoBeyond.
HISTORY & EXPERIENCE
We've been running educational high school travel experiences for teenagers since 1986, and that's a really long time! Last summer, we were joined by over 750 families from Angola to Alaska, dedicated over 16,000 hours to the service of others and sailed 22,000 nautical miles!
OUR STATISTICS
The numbers speak for themselves – 7 out of 10 students join our student trips abroad because of a personal recommendation or are returning for a second summer.
LEADERS & MENTORS
We take great pride in the knowledge that our team is comprised of some of the most highly qualified, dedicated and experienced in the industry.
PHILOSOPHY & DESIGN
Our Journeys are designed to transform communities, environments and students' lives through meaningful cross-cultural service adventures. While having a lot of fun, everyone involved is highly likely to be positively affected by their high school travel experience.
AUTHENTICITY
Our commitment to providing authentic and culturally rich student trips abroad requires longstanding partnerships with responsible organizations that are dedicated to environmental and humanitarian service work. GoBeyond is proud to collaborate with multiple local, national, and international service organizations to create meaningful global high school travel experiences tailored to specific learning outcomes.